Hello and greetings in the precious name of Jesus to all you dear and amazing people! This Update is a little different. Yes it will have some current news, but it is intended to be a letter of encouragement to you all - a letter to instill hope, faith and commitment in each of you. We love you all dearly and really appreciate your prayers and your giving so much. But is there more you could be doing to advance the Kingdom?
This morning I received a message from a dear friend who reminded me of something she heard Phil and I say many times to our girls and it is true for all of us no matter our age, our circumstances or anything else. We would regularly say "What time is it?" and the girls response is always "Time to Grow Up." For each of us this time is NOW. Time to stand up and be counted as a Christian and look seriously at what we are really doing for the Kingdom. Are we reaching out in love to anyone to lift them up, to help them grow in the things of God, to clothe and feed them, to walk with them as they go through the storms of this world? Or are we quite happy in our own little rut, plodding along, happy with the way things are? Me, mine, and nobody else. Are you really happy with this state? Church on Sunday, a Christian all day on Sunday, then come Monday back to the world, work, eat and sleep with little room for the things God is really calling you to.
The most common question I hear from Christians is "How do you hear from God and find out what He wants you to do?" Short answer "Change what you are doing and get more of God into your daily life." How!!! you ask? Read The Word daily. It does not matter how long or how much, so long as what you read you activate in your life. God is so in love with us that He gave us choices. If we decide on the things of God, He fully backs every godly decision we make. Stay in prayer and communication with Him and He will eventually show you what the plan for you is.
There is no such thing as "I can't do that" or "It is too big for me" or "I am not smart enough or brave enough or rich enough" or "I am scared." Whatever your excuse, He has the answer and the support system in place to see you through and provide the skills you need to get it done. So right where you are, right NOW, take a good look around you, find a need in someone else and pray about how you can fill it. I send this in love because I want you all to walk in God's anointing and glory as we try to every day. It is a place of peace, love and happiness, and it is yours too. This is our prayer for you all.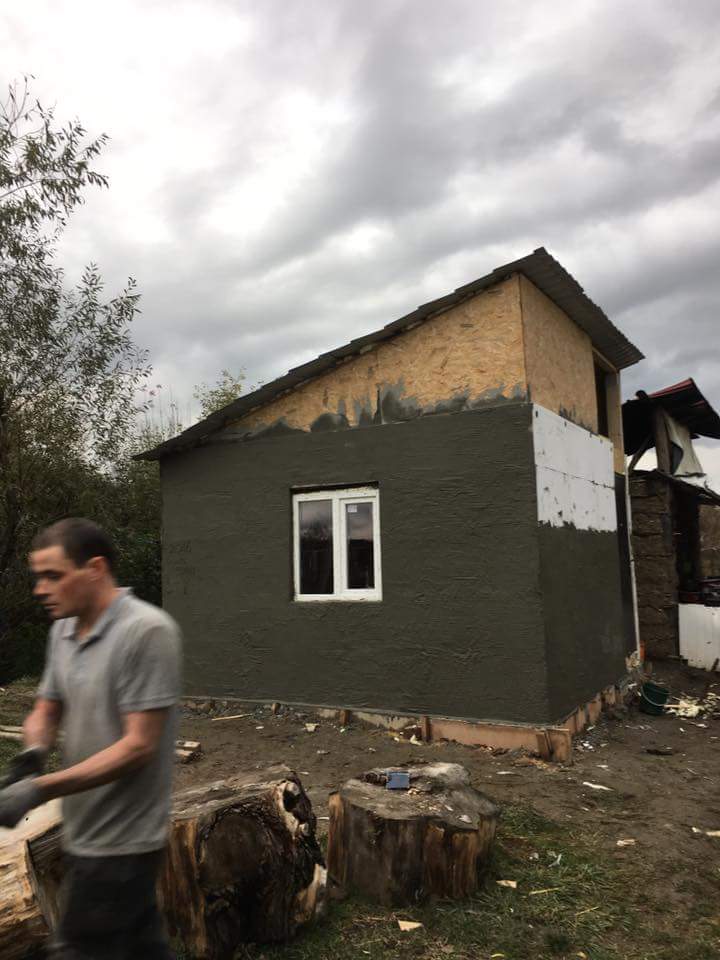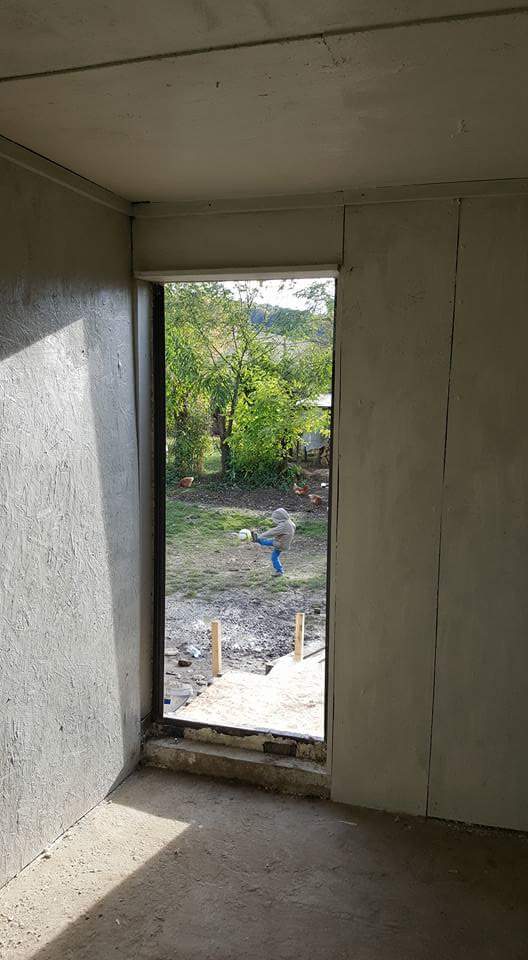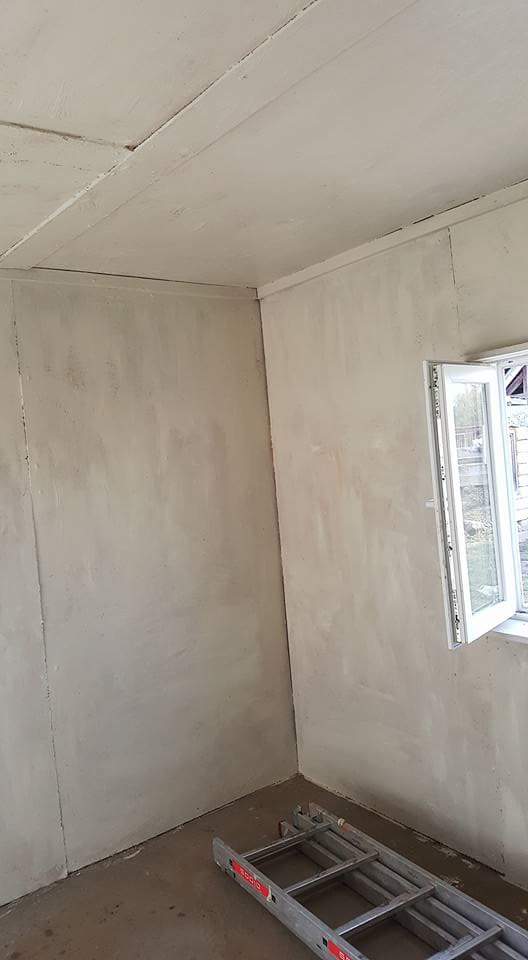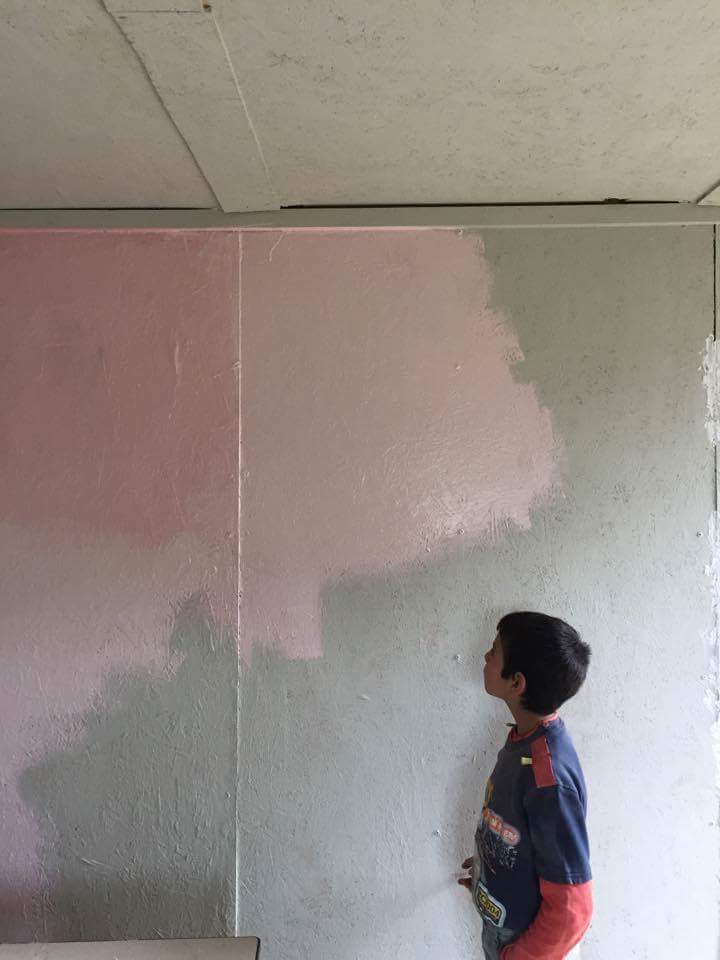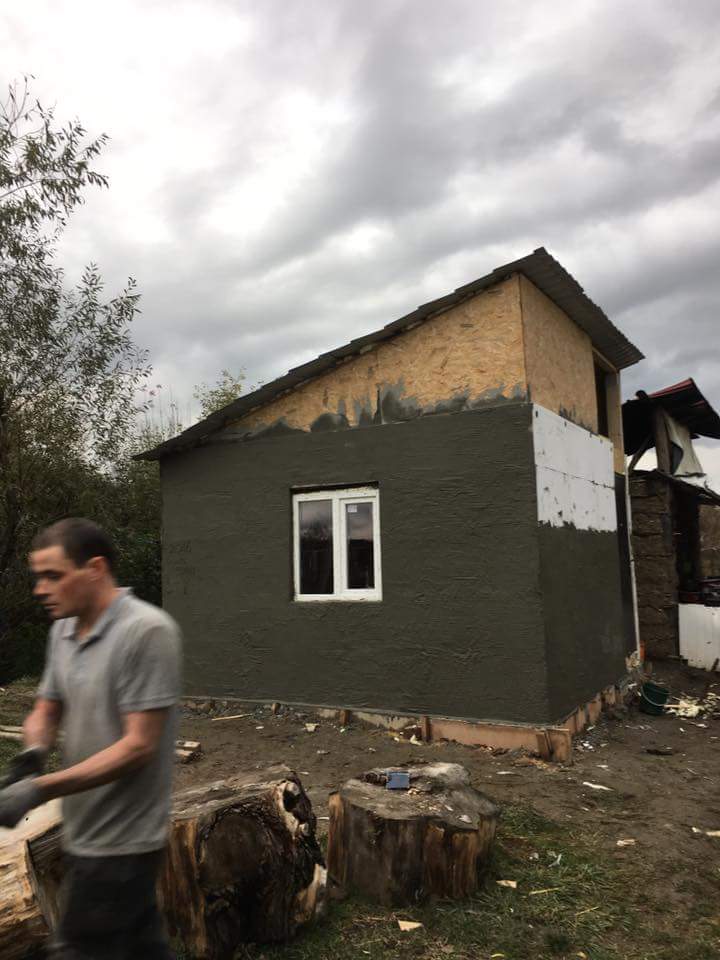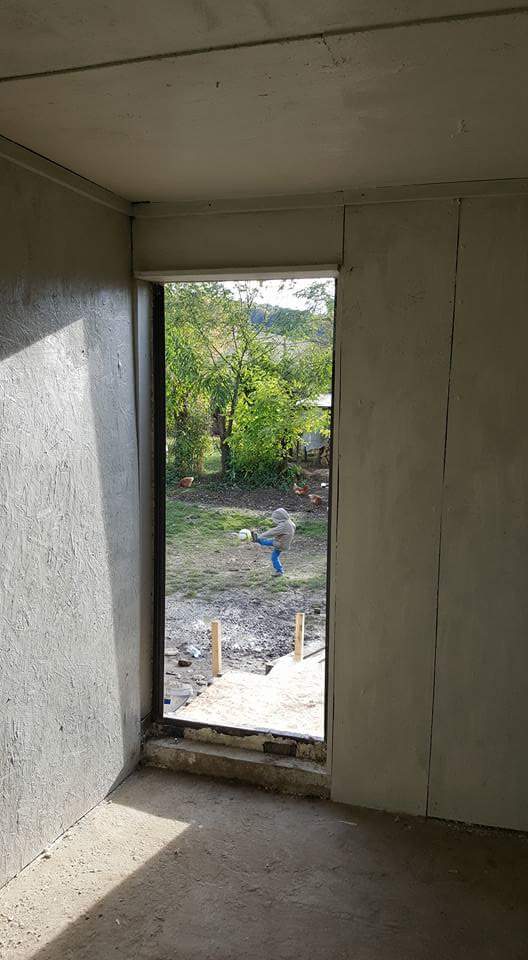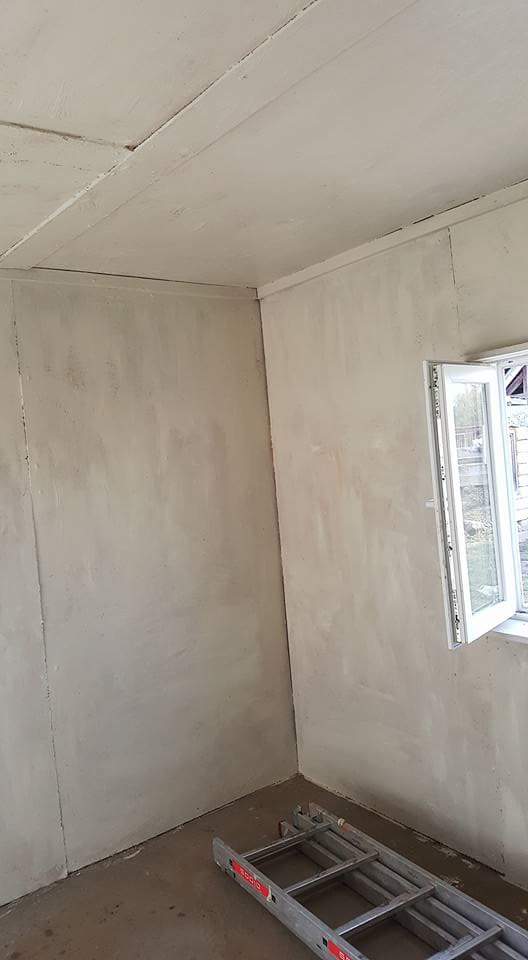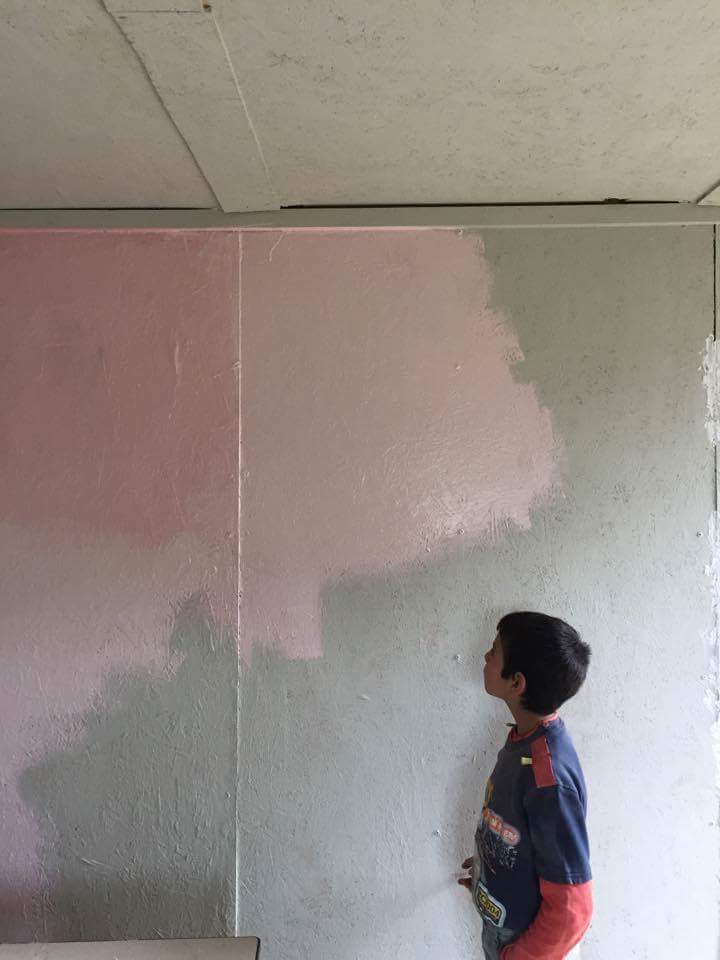 As you are aware this past week we have had a team of three come to stay with us from three different churches in Wales. Their mission was to help Phil and I to finish a small house for the Puti (pronounced Putsy) family, and their seven children before winter sets in. The mission was a success, and each of the three had a real personal need to achieve while they were here - to strengthen their relationship with God and to hear from Him about the direction they should go next. In communications with them all since their return to Wales it is very clear that their personal needs were met. All glory to our heavenly Father, and thank you Lord for always being faithful to your promises! The progress at this moment is that Phil is completing the house, painting, filling gaps, putting in the insulated ceiling. Tomorrow he will put in the insulated laminated floor, and the new soba (wood burner) which is small as this is the sleeping room and will only need a little heating. The exterior painting is next, but we'll probably move the family in before we start painting the outside. Each day one of the girls goes with Phil to help. They are such a blessing. Thank you Diana, Eva and Terezia!
Every time we have had people come here to help they have received as much as they have given out. It is not about what we have done or are doing but more to do with their choice in coming here with a genuine wish to help others and get their eyes and minds off day to day problems at home and to start looking at things around them in a Jesus kind of way. None of the people working on the house is a builder or carpenter but together with their shared skills they have all learnt and grown and I for one am very impressed with the result. See a need and fill it. They worked so hard and found fellowship with each other, with us, and with those they were working to help, and it has changed their lives for the better. They have sent us many testimonials, just like every person who has ever come here to help. We are so privileged to be a small part of doing God's will and all things are done to honor Him. Here are two of the testimonials for you to read.
"Hi Phil and April we want to thank you for the impact you have made on Jordan this year and on us. Thank you for looking after him this week. We have loved the updates and we know that every conversation you have had has added value to Jordan and his walk with the Lord."
"Hi April. Whilst delighted to be back with my family I also feel like I don't want to amalgamate back into normal life. It has been such a transformative experience for me. The poverty in evidence was heart breaking but during the time I spent with those children there were real glimpses of Gods' glory. I will definitely be back. When I do it will be with Laura. You will love her, April. She has such a heart for children. A beautiful soul. I want to thank you again for looking after me so considerately. It meant so much. I was able to do my job because of you. I really like Phil. He's a real person. A man of substance. Funny, engaging, patient , consistent, generous. The job you've both done with those girls is amazing. It is a perfect example of the hope that anchors us in our belief. Be blessed. Bryan"
So, please, if you want to change your life in a positive way, this is an open invitation to come and help. If this is not for you right now then please help someone else to come. We are either goers or senders and both roles are important to the Kingdom. We are so grateful that you sent us. Thank you, Lord. As long as God needs us to remain here we will soldier on.
We remain as always your humble servants in Christ Jesus, with love and blessings declared over each of your lives, in Jesus' name, Amen!
April and Phil Lynn